Diploma in
Diploma in Jurisprudence
Eurasian Humanitarian Institute (Evrazijskij Gumanitarnyj Institut)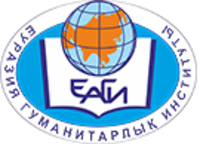 Scholarships
Explore scholarship opportunities to help fund your studies
Introduction
The goals of this program are: providing conditions for receiving qualitative professional education of full value, professional competence in the sphere of jurisprudence; formation of the students' deep theoretical knowledge and practical skills in the sphere of the legal analysis and juridical activity; training of a harmonic and comprehensive developed personality possessing scientific philosophic, social-historical, political and economic knowledge, mastering the Kazakh, Russian and foreign languages, habits and skills of the analysis of informational processes and working on the computer, understanding the role of physical culture and a healthy way of life; education in the spirit of the Kazakhstani patriotism, international friendship, international and inter-confessional agreement, respect for different cultures, traditions and customs; development of the legal, ecological, physical, ethical culture, the culture of thinking and high legal consciousness; formation of fundamental knowledge, habits and skills necessary in the professional activity.
Spheres of professional activity: Protection, provision, a guarantee of observing legal rights and interests of the state, physical and juridical persons in the legal sphere.
Objects of professional activity: law-enforcement bodies; special state bodies; court, executive and representative bodies of the state power and management; state and non-state enterprises; social institutions; human rights organizations; legal profession; finance institutions; insurance and audit companies, organizations of education.
Similar Courses
Postgraduate Diploma in Law (PGDL) - Full-time

London, United Kingdom
Birmingham, United Kingdom

+ 12 more

Postgraduate Diploma in Law (PGDL) - Part-time evening

Postgraduate Diploma in Law (PGDL) - Part-time weekend

London, United Kingdom
Birmingham, United Kingdom

+ 3 more