LLM in
LLM – Justice, Democracy, and Legal Rights Concentration
University of Illinois - College of Law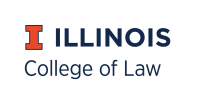 Introduction
The Justice, Democracy, and Legal Rights concentration offers a directed, optional program of study for LL.M. students. Students have the opportunity to receive specialized training in the field and select the classes that are most relevant to their areas of expertise. A concentration designation will appear on the transcript, giving students a competitive advantage in the legal employment market. Students retain the ability to elect a few courses outside of their concentration in other areas of interest or to prepare for the bar exam.
To earn the concentration, students must complete a course in Constitutional Law in addition to ten credit hours in classes of their choice within the concentration. Students may add a wide array of courses, such as Family Law, Elder Law, Health Law Policy, Labor Law, Dispute Resolution, Environmental Law, and many more.
Features
Diverse Perspectives: The College of Law regularly welcomes students from over 25 different countries with varying levels of professional experience. The University of Illinois at Urbana-Champaign community at large has over 10,000 international students from over 110 different countries.
Enrichment: The College of Law and student organizations host numerous events each year featuring academics and public figures from around the U.S. and world who students can learn from and engage with.
Individualized Counseling: Students are provided individualized counseling and advising to assist them in career planning, academic success, and bar eligibility.
Mixed Classes: Sharing classes and interacting with the JD students are hallmarks of the Illinois LLM program.. In classes with high LLM student enrollment, teaching assistants are assigned to provide additional support.
Networking: When you come to Illinois Law you will become part of a family that includes over 11,000 College of Law alumni and over 470,000 living University of Illinois at Urbana-Champaign alumni.
Champaign-Urbana: With its big-city amenities yet small-town accessibility, Champaign-Urbana (C-U) is a vibrant and extremely affordable college town with a lively cultural scene, free public transit for students, a wide range of restaurants, and numerous sporting opportunities.