Juris Doctor in
Juris Doctor Program
Vermont Law and Graduate School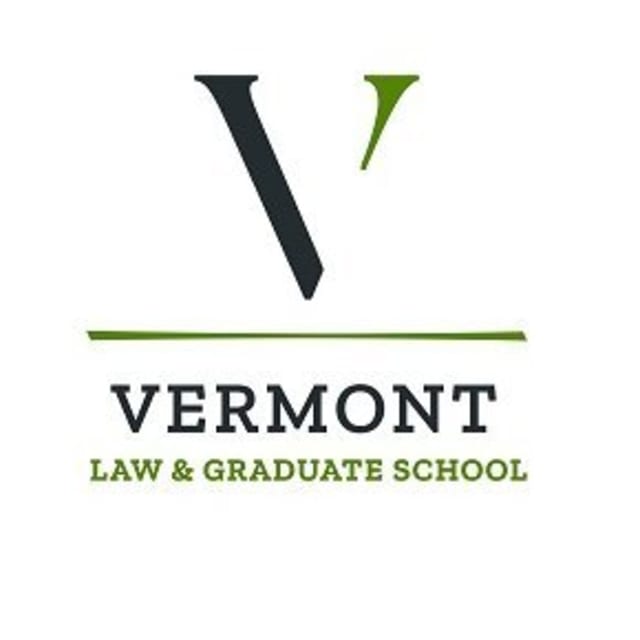 Introduction
At Vermont Law and Graduate School, learning is geared toward purpose and action.
VLGS academic programs combine a solid foundation in law and policy with a focus on one or several areas of specialization. Practical, real-world experience gained through work in legal clinics and externships enables students to hone their expertise and match their talents to their passions.
Learning happens everywhere: on campus—in classrooms, conference rooms, the library, and in dinner seminars—and off campus in—courtrooms, client offices, town meetings, mediation sessions, depositions, and legislative hearing rooms. It's a learning environment driven by students who are more intent on collaboration than on competition.
Vermont Law and Graduate School's academic programs are designed to transform legal expertise and skills into tools of consequence. Faculty members, renowned legal scholars, and practitioners deliver an extensive course catalog that features the most environmental law courses of any law school in the United States. The top-ranked Environmental Law Center prepares students for leadership through practice in specialized institutes and clinics. International programs allow students to broaden their understanding of global policy and law and test the waters of legal practice outside the U.S. the Julien and Virginia Cornell Library, one of the nation's best environmental law resources, support students and faculty as they learn and practice.
Community
Vermont Law and Graduate School is a different kind of law school, and one important reason rests with our community. Students fish on the White River between classes in the summer. They hold dinner parties, brew their own beer, and hear firsthand from the governor of Vermont about the importance of making changes to the criminal justice system.
Like Vermont itself, the community at Vermont Law and Graduate School is small and deeply engaged. It's a passionate group of faculty, students, and staff who care about both their neighbors and changing the world. The community includes our alumni, who share a common bond and love for this small town in Vermont though they may be scattered across the nation and abroad. They look out for each other, help current students find work and internships, and retain a commitment to changing the world and their neighborhoods.
It takes many parts to make our community work. Our campus is deeply committed to sound, sustainable environmental practices is one part of it. Here you'll find compostable toilets and a solar-powered electric vehicle charger available for use.
Our values and commitment to equality-for-all also play a part. On Town Meeting Day, the school closes to allow students, faculty, and staff the opportunity to participate in this important New England democratic tradition.
Finally, the place itself—and a love for and engagement with the outdoors—fosters the communal experience. We take a moment to connect with each other and our surroundings. Whether it's hiking nearby Kent's Ledge, or visiting the gear shed to borrow cross-country skis, snow shoes, and canoes. When the weather is at its worst, the new state-of-the-art fitness center offers equipment and group fitness classes including yoga, guided meditation, and spinning.
Program Outcome
Professional Responsibility and Ethics: Graduates will be able to work respectfully, ethically, and productively with diverse clients and legal professionals. They should possess the skills needed to recognize and resolve dilemmas in an ethical manner.
Foundational and Substantive Legal Knowledge: Graduates will demonstrate knowledge and understanding of substantive and procedural law, and the role of law in society.
Foundational Legal and Advocacy Skills: Graduates will be able to independently and collaboratively engage in legal research, legal analysis, reasoning, and problem-solving and communicate effectively and persuasively.
Bar Exam Preparedness and Skills: Graduates will possess the skills needed to successfully perform on the bar examination taken.
Service to Society: Graduates will understand an attorney's obligation to engage in community and public service.
Curriculum
Degree Requirements
Required courses are subject to change.
87 credits
Required Courses
All of the following courses:
REQ7255 Appellate Advocacy 3
REQ7104 Civil Procedure I 3
REQ7103 Civil Procedure II 2
REQ7112 Constitutional Law 4
REQ7130 Contracts 4
REQ7140 Criminal Law 3
LIT7210 Evidence 4
REQ7120 Legal Analysis and Writing I 1
REQ7122 Legal Research 1
REQ7125 Legal Writing II: Theory and Practice 3
REQ7185 Legislation and Regulation 3
REQ7265 Professional Responsibility 3
REQ7160 Property 3
REQ7150 Torts 4
Required Courses
At least two (2) of the following courses:
BUS6235 Corporations 4
CRI7262 Constitutional Criminal Procedure 4
CRI7307 Criminal Practice and Procedure 4
FAM7710 Estates 4
FAM7715 Family Law 3
PUB7500 First Amendment Law 3
BUS6280 Sales 2
Experiential Courses
At least six (6) credits from the following experiential courses:
BUS6219 Entrepreneurship and Legal Lab Practicum (VLSell) 2/4/6/12
CLI9302 Environmental Advocacy Clinic 6/9/12
CLI9310 South Royalton Legal Clinic FT 12
CLI9311 South Royalton Legal Clinic - Summer 6 or 9
CLI9312 South Royalton Legal Clinic PT 6
CLI9318 Environmental Justice Clinic 6/9/12
CLI9319 Climate Justice Practicum 4
CLI9321 Farmed Animal Advocacy Clinic 4/6/9/12
CLI Advanced Farmed Animal Advocacy Clinic 4/6/9/12
CLI9323 Advanced Environmental Advocacy Clinic 6/9/12
CLI9333 Advanced South Royalton Legal Clinic 6/12
Advanced Legal Writing Project
One (1) of the following advanced legal writing project courses:
ADR6450 Advanced Dispute Resolution Writing Seminar 2
BUS6262 Social Enterprise Law 2
BUS6330 Sports Law 2
CLI9302 Environmental and Natural Resources Clinic 6/13
CLI9310/9312 South Royalton Legal Clinic 6/13
CLI9450 Land Use Clinic 4/6
CRI7305 Advanced Criminal Law Seminar 2
DIV7606 Civil Rights Seminar 2
DIV7607 Constitutional Rights Litigation 3
DIV7610 Race and the Law Seminar 2
DIV7615 Sexual Orientation and the Law Seminar 2
ENV5110 Ecology of Food and Agriculture 3
ENV5212 Climate Change and the Law 3
ENV5236 Advanced Natural Resources Law 2
ENV5250 Watershed Management and Protection 3
ENV5303 Advanced Energy Writing Seminar 2
ENV5304/5306 Comparative Environmental Law Research Seminar 2/1
ENV5305 Environmental Ethics Seminar 2
ENV5310 Environmental Health Law Seminar 2
ENV5335 Extinction and Climate Change 2
ENV5337 Frontier Issues in Environmental Law and Policy 2
ENV5342 Legal Adaptation to Global Warming 2
ENV5345 Land and the Law of Takings 2
ENV5349 Regulating the Marine Environment 2
ENV5365 Climate Change: The Power of Taxes 2
ENV5493 Agricultural Biotechnology and the Law 2
HIS7555 American Legal History: The Search for National Identity 2
INT7407 Comparative Law: Comparative Legal Systems 3
INT7413 European Union Law 3
INT7428 International Regulation of Trade 3
INT7430 Spanish Constitutional Law 2
INT7437 Introduction to Chinese Law 2
JUR7307 Culture and the Environment 2
JUR7323 Law and Popular Culture 2
JUR7330 Moral Philosophy for Professionals Seminar 2/3
JUR7332 Law, Lawyers, and Religion 2/3
JUR7350 Women and the Law Seminar 2 +1 IRP
JUR7390 Jurisprudence Tutorial 1/2
PUB7550 National Security Law 3
PUB7580 State and Local Government 2
WRI7900 Independent Research Project 1/7
WRI7950 Law Review 2/4
WRI7960 Vermont Journal of Environmental Law 2/4
Admissions
Application Process
To be considered for admission into Vermont Law and Graduate School's Master's and JD programs, you must have completed a degree program equivalent to a U.S. bachelor's degree prior to enrolling. For the LLM programs, you must have completed a JD degree from an ABA-accredited institution or the international first law degree equivalent prior to enrolling.
Required Documents
JD Programs
Professional Resume or Curriculum Vitae
Required Essay
Official LSAT Score
Official Transcript Evaluation through LSAC
Two Letters of Recommendation
Character and Fitness Information
Official English Language score report (TOEFL, IELTS, PTE)
LLM Programs
Professional Resume or Curriculum Vitae
Required Essay
Official Transcript Evaluation from all schools attended through LSAC
Two letters of Recommendation
Official English Language Score Report (TOEFL, IELTS, PTE)
Masters Programs
Professional Resume or Curriculum Vitae
Required Essay
Official Transcript Evaluation from all schools attended
Character and Fitness Information
Two Letters of Recommendation
Official English Language Score Report (TOEFL, IELTS, PTE)
How to apply
Applicants to our JD and LLM programs are required to apply through LSAC.org. For more information on applying through LSAC as an LLM, please visit the Application Process for LLM and Other Law Programs. Master's applicants must use the VLGS Web Application.
English Proficiency
English language proficiency is required to ensure success while studying at a U.S. higher education institution. Vermont Law and Graduate School requires a language exam for all students for whom English is not their primary language spoken. Vermont Law and Graduate School accepts the following language exams to provide sufficient evidence of English language proficiency. When requesting your electronic scores to Vermont Law and Graduate School use the code 3946.
TOEFL: Test of English as a Foreign Language. Minimum score required: 100
IELTS: International English Language Testing System. Minimum score required: 6.5
PTE: Pearson Test of English. Minimum score required: 68
The English language proficiency requirement is not required for applicants who have completed two years of study from a higher education institution where English is the dominant and official language, or their country of citizenship is a country whose official language is English. Vermont Law and Graduate School reserves the right to request proof of English language proficiency for any applicant.
Applicants may request an English language proficiency waiver. The waiver process requires a Skype interview with a member of the admissions team. The granting of a waiver is at the discretion of the Office of Admissions and additional proof of language proficiency may be required.
All official score reports should be mailed in the original sealed envelope to the Vermont Law and Graduate School Office of Admissions
All English Language Proficiency requests should be directed to International Admissions and Services.