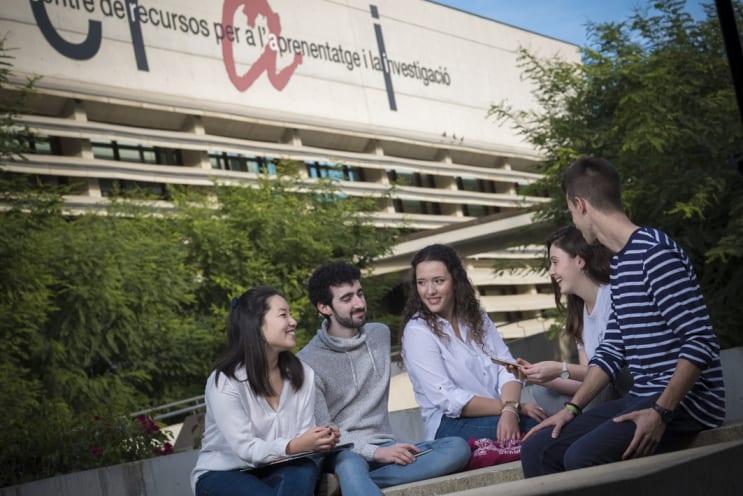 URV Presentation
The Universitat Rovira I Virgili is located in the province of Tarragona, close to Barcelona, in one of the most popular tourist destinations in Europe. It is a young and dynamic university serving the needs of society, open to the world and, at the same time, closely connected to its social and economic surroundings.
The range of academic programs offered by the URV covers all fields of knowledge: engineering and architecture, arts and humanities, health, and social and experimental sciences. We offer a wide range of programs including bachelor's degrees, master's degrees and doctoral programs, as well as lifelong training programs for professional development.
Our aim is to provide you with the best training. With your motivation and our experience, you can stay ahead in your personal and professional development and reach your goals.
How can we help you to stay ahead?
Don't miss your chance next year to have a URV experience!
Locations
Tarragona
Address
Student Office
Universitat Rovira i Virgili
Avda. Catalunya, 35
43002 Tarragona (Spain)
Universitat Rovira i Virgili
43002 ES
Tarragona
,
Catalonia
,
Spain
Tarragona
Address
Faculty of Chemistry
Campus Sescelades
Universitat Rovira i Virgili
C. Marcel·lí Domingo, 1
43007 (Tarragona - Spain)
43007
Tarragona
,
Catalonia
,
Spain
Tarragona
Address
Faculty of Arts
Campus Catalunya
Universitat Rovira i Virgili
Av. Catalunya, 35
43002 Tarragona (Spain)
43002
Tarragona
,
Catalonia
,
Spain
Reus
Address
Faculty of Medicine and Health Sciences
Universitat Rovira i Virgili
C. Sant Llorenç, 21
43201 Reus (Tarragona - Spain)
43201
Reus
,
Catalonia
,
Spain
Tarragona
Address
Faculty of Education Sciences and Psychology
Campus Sescelades
Universitat Rovira i Virgili
Crta. de Valls, s/n
43007 Tarragona (Spain)
43007
Tarragona
,
Catalonia
,
Spain
Tarragona
Address
Faculty of Legal Sciences
Campus Catalunya
Universitat Rovira i Virgili
Av. Catalunya, 35
43002 Tarragona (Spain)
43002
Tarragona
,
Catalonia
,
Spain
Reus
Address
Faculty of Business and Economics
Campus Bellissens
Universitat Rovira i Virgili
Av. de la Universitat, 1
43204 Reus (Tarragona - Spain)
43204
Reus
,
Catalonia
,
Spain
Tarragona
Address
Faculty of Oenology
Campus Sescelades
Universitat Rovira i Virgili
C. Marcel·lí Domingo, 1
43007 Tarragona (Spain)
43007
Tarragona
,
Catalonia
,
Spain
Tarragona
Address
Faculty of Nursing
Campus Catalunya
Universitat Rovira i Virgili
Av. Catalunya, 35
43002 Tarragona (Spain)
43002
Tarragona
,
Catalonia
,
Spain
Tarragona
Address
School of Engineering
Campus Sescelades
Universitat Rovira i Virgili
Av. Països Catalans, 26
43007 Tarragona (Spain)
43007
Tarragona
,
Catalonia
,
Spain
Tarragona
Address
School of Chemical Engineering
Campus Sescelades
Universitat Rovira i Virgili
Av. Països Catalans, 26
43007 Tarragona (Spain)
43007
Tarragona
,
Catalonia
,
Spain
Tarragona
Address
Faculty of Tourism and Geography
C. Joanot Martorell, 15
Campus Vila-Seca
Universitat Rovira i Virgili
43480 Vila-Seca (Tarragona – Spain)
43480
Tarragona
,
Catalonia
,
Spain
Programs
This school also offers: